Business Cards

Reach new markets, maintain contacts and more with 4over's premium quality Business Cards – one product that no business can survive without! And with 4over's high standards in quality, service and turnaround, customers are guaranteed to make an impact with some of the finest looking Business Cards in the industry. All for a price that can't be beat.
Popular Uses & Ideas
Introduction of your business
Introduction of your personal information
Great for networking events
Use company-wide for professional business representation
Mommy Cards
Student Cards
Sizes

Available in a wide variety of sizes ranging from 1.5″ x 3.5″ up to 7″ x 2″

Run Sizes

Stock Types

100lb Gloss Cover
14 PT
14 PT Natural
14 PT Pearl Metallic
14 PT Uncoated
16 PT
18 PT C1S
20 PT Clear Plastic
20 PT Frosted Plastic
20 PT White Plastic
Linen

Color Options

Coating Options

Aqueous Coating

It is used to protect and enhance the printed piece. Aqueous coating is applied to all 100lb gloss book and 100lb gloss cover.

UV Coating

A liquid coating applied on the box, which is then bonded and cured with ultraviolet light. This coating is used to provide a protective coating to the printed image. Please note that you CAN NOT write or imprint on uv coated jobs.

Matte

A coating that is matte or flat, not as shiny like gloss coated, but still keeps much of the ink from being absorbed by the paper and produces an excellent image.

Silk Lamination

A dull matte film applied to one or both sides of a print product. Silk lamination give cards a luxurious smooth feel and may dull color and contrast slightly. Durable Silk lamination is tear and water resistant.

Spot UV Coating

A liquid coating applied to the printed piece only in specific areas as opposed to all over coating. Indicate what areas you would like to have UV by providing a mask file where UV areas are black and No UV areas are white.

No Coating

Aqueous Coating
Full UV on front only
Matte/Dull finish
No Coating
Silk Laminated
Silk Laminated with Spot UV on both sides
Silk Laminated with Spot UV on front only
Silk Laminated with Spot UV on back only
Spot UV
Spot UV on back only
Spot UV on front only
UV Coating
Silk Cards
lass up your act with Silk Cards! Silky smooth to the touch with a matte appearance, Silk Cards are laminated on both sides giving them a supple texture and added durability. Long lasting water and tear resistant 16PT Silk cards bring sophistication to print products and marketing materials, enhancing your customer's brand and allowing them to stand out from the crowd. Silk Cards are printed in full color and come with Spot UV and Foil Worx options.
Product Options
Select products are available with Rounded Corners
Greeting Cards and Announcement Cards come with the option to add blank 70lb Opaque Envelopes
Popular Uses & Ideas
Business Cards
Postcards
Greeting Cards
Announcement Cards
Tear-resistant Photos
Water-resistant Menus
Tear-resistant Playing Cards
Durable Flashcards
StarLustre Cards

Sky's the Limit with StarLustre Cards! Exclusively available to our Presidential customers, 4over's new StarLustre Cards are ideal for bringing style and class to brands. This luxurious silvery substrate has a subtle glimmer and an ultra smooth surface, adding dimension and impact to images on every printed product. Announcement cards are also available with the option to add 70lb Pearl blank envelopes.
Popular Uses & Ideas
Concierge Services
Literature for Spas and Retreats
Health and Beauty Product Brochures
Travel and Resort Brochures
Special Event Invitations (Poolside Party Flyers, VIP Invites, etc.)
High-end Fashion Brochures (E.g., Silk Ties, Sunglasses, Accessories, etc.)
Luxury Vehicle Sales & Detailing Brochures
Upscale Restaurant Menus
Promotional Literature for Gourmet Chocolates and Pastries
Suede Cards

Feel the difference with Suede Cards – soft to the touch, they bestow luxury to brands and create high impact marketing pieces. Suede Cards are printed with high quality offset equipment on 16pt card stock, then they are laminated on both sides with 1.5mil scuff resistant, soft velvet laminate, which give them a substantial thickness of 19pt.
Popular Uses & Ideas
Business Cards
Announcement Cards
Greeting Cards
Hand out at business meetings
Mail out to executives to make an impression
Aquafoil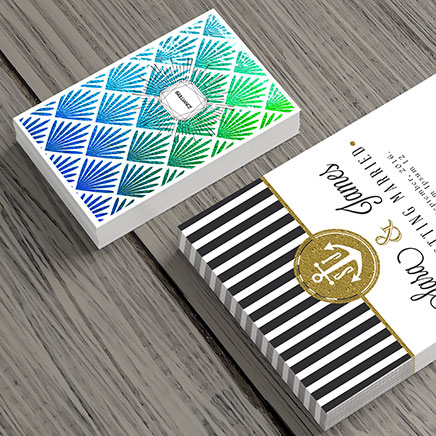 Radiance never seen before – dazzle you can afford! Akuafoil gives you a wide range of CMYK colors with a sparkling foil finish and an ideal reflection that is priced to give you a true competitive advantage. State-of-the-art features allow you to produce large solid areas as well as reversed out areas of foil. You can produce foiled half tones, gradients and have multiple colors in foil on the same design. The design possibilities are limited only by your imagination, giving your customers an exquisite edge.
Popular Uses & Ideas
Party Invitations
Club handouts
Unique business Cards
Colorful promotional postcards
Birthday handouts
Holiday handouts
Standout booklet covers
Edge Cards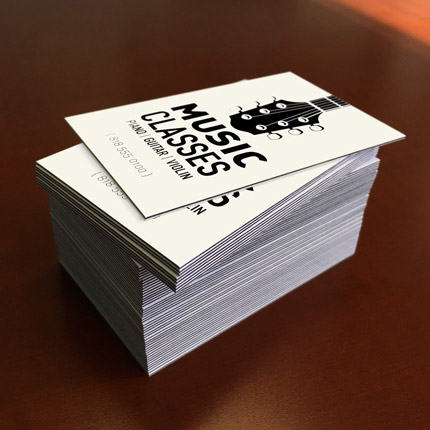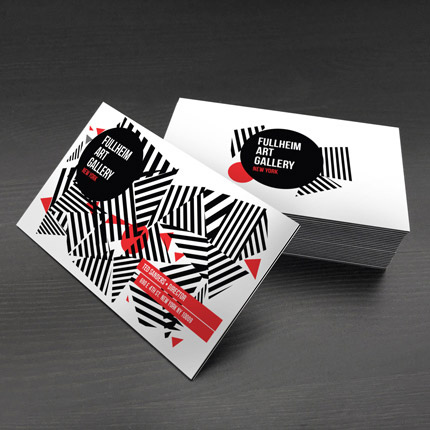 Give customers an edge over the competition with Black EDGE Cards! Sturdy, multilayered Black EDGE Cards consist of a black-colored core fixed between two layers of bright white, premium uncoated face stock. The bold edge color on these 32pt ultra thick cards gives them a sleek and modern appeal so they stand out from the rest!
Popular Uses & Ideas
Promote your Company or Business
Display & Distribute Contact Information
Hand out at Networking Events
Foil Werx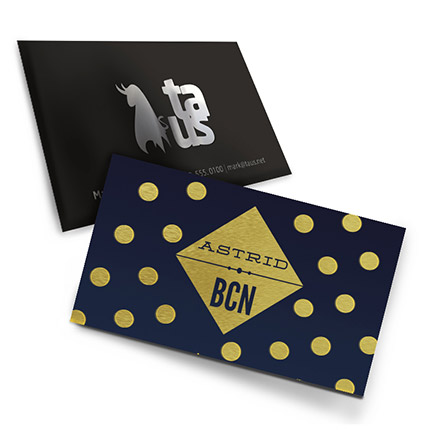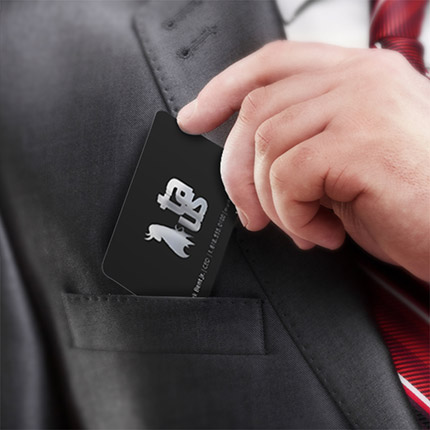 Bring flair and shine to your product offerings with Foil Worx! Foil Worx lets you choose from gold, copper or silver foil accents on 14pt Uncoated or 16pt Silk Laminated Business Cards and Postcards for an ultra-refined custom finish that adds sophistication and class to any business. Ideal for luxury brands, concierge services, law offices, real estate and more.
Note: the same color foil must be used for the front and back of your product.
Popular Uses & Ideas
Business Cards
Postcards
Invitations and Announcement Cards
Wedding and Baby Shower Invites
Holiday Cards
Luster Cards

Upgrade your product line with brilliant high-gloss Luster Cards! Allow your Business Cards and Sell Sheets to make a big impact at Business Meetings with extra durable, water resistant, Luster Cards. Or use them to make a lasting impression by mailing them out to executives in the form of Postcards and Announcement Cards. Luster Cards are printed with high-quality offset equipment on 16pt card stock and then they are laminated with an optically clear 3mil high-gloss laminate on both sides, making the cards a colossal 22pt thick.
Luster Hang Tags come with straight corners and 0.125″ drill hole.
Popular Uses & Ideas
Postcards
Hang Tags
Sell Sheets
Business Cards
Announcement Cards
Natural Cards

Light cream in color with a smooth finish, our 14pt Natural stock gives cards an organic look and feel. Make a strong first impression by handing them out at Business Meetings, or mail them out to executives for a lasting impact. Round Corner options are available on Business Cards & Announcement Cards, and half scored Greeting Cards & Flat Announcement Cards both include the option to add matching Natural Blank Envelopes. This cardstock is environmentally friendly with a minimum 30% post-consumer waste content.
Popular Uses & Ideas
Business Cards
Announcement Cards
Greeting Cards
Sell Sheets
Postcards
Save the Date Cards
Invitations
Holiday Cards
Wedding Announcements
Baby Showers and Birth Announcements
Pearl Cards

Our 14pt Metallic Pearl paper is a unique stock that shimmers in light when viewed from different angles. The stock itself is embedded with Pearl fibers that give the paper an overall smooth, metallic look. Printing on this stock will give your CMYK colors a subtle shimmer, however heavy ink densities or coverage may diminish the effect. Customers can hand them out at business meetings to make lasting impressions, or use them as mailers to elevate brands. Our half scored Greeting Cards and flat Announcement Cards come with the option to add matching Pearl Blank Envelopes.
Popular Uses & Ideas
Business Cards
Announcement Cards
Greeting Cards
Postcards
Sell Sheets
Save the Date Cards
Invitations
Holiday Cards
Wedding Announcements
Baby Showers and Birth Announcements
Raised Spot UV

Give customers the ideal way to gloss things up with eye-catching spot UV effects! Suede Raised Spot UV Cards from 4over feature smooth glossy raised areas that contrast beautifully with the Suede/Soft Touch Laminate foundation of the cards. This product will make you the envy of all your competitors, and your customers will be thrilled with all of the compliments they receive on their classy new cards. Suede Raised Spot UV Cards are real game changers for folks who want to exude style, elegance, and class.
Popular Uses & Ideas
Business Cards
Greeting Cards
Postcards
Holiday Cards
Invitations